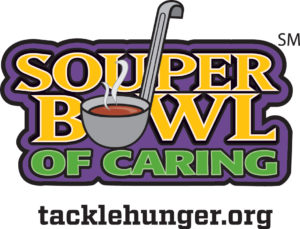 As you prepare to purchase groceries this week, you are invited to provide food and funds for our hungry neighbors.
Americans spend about $1 billion on Super Bowl snacks. In contrast, the youth of St. Philip challenge the congregation to donate just $1000 and 770 grocery items (that's enough cans to build two 10 x 10 pyramids) to Feeding America Food Bank and the St. Mark's food pantry, respectively.
On February 11, we will collect the groceries in the sanctuary and the money at the close of worship as you leave the sanctuary.  Together we can help end hunger right here in Roanoke! For more information on the Souper Bowl of Caring and hunger in the United States, visit tacklehunger.org.