Rev. David C. Derrick, Pastor
pastordavid@stphiliplutheran.net
I love to laugh, I love everything sports, I love learning new things, I love traveling, I love family and friends, I love St. Philip.  I have been privileged to serve with this great community of faith since the year 2000.  Pride may be sinful, but I unabashedly confess I am proud of the church we are together.  I am always excited about what new thing God is doing with us and cannot wait to see what God has in store for us today.  Search me out so we can discover today's joy together.
Judy Burnette, Director of Music Ministries
music@stphiliplutheran.net
In addition to my church responsibilities, I have a full time job as an elementary music educator. I am also the mother of two grown daughters, Kristin and Gina. My family is completed by my two "four legged" children. Ellie is a dachshund/beagle mix and Lucy is an American Labrador mix. They are both rescue dogs. On my breaks from school, I love to travel whenever possible. The latest two places that have been added to my list are San Diego, California, and Oconomowoc, Wisconsin (near Milwaukee). Both cities are fascinating in their own way.
Laura J. Latham, Office Administrator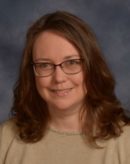 officeadmin@stphiliplutheran.net
The great Fred Rogers said "Life is for service." More and more I've come to understand how true that is. In addition to serving as Office Administrator here at St. Philip Lutheran, I also serve Metropolitan Community Church of the Blue Ridge as Administrative Assistant, and serve in several volunteer roles at the Unitarian Universalist Church of Roanoke where I am a member. I live in Southwest Roanoke with my teenage son Thomas and our YorkiePoo Junebug. I have a B.A. in English and minors in history and business from Bridgewater College. I enjoy cooking, reading, hiking, and camping and am passionate about the environment, equal rights for all people, and feeding hungry people in our area.